John Galsworthy
08.08.2017 11:30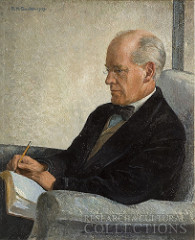 This year is a 150-th anniversary of one of the most famous English writers John Galsworthy.
"The Forsyte Saga" was the highest point of his writings.
He was novelist and playwright, who won Nobel Prize for Literature in 1932. He came from a newly rich upper middle class commercial family. Trained as lawyer, he switched to writing as soon as his father died. Even before that he had penned four books under pseudonym. His works mainly dealt with the social class system prevalent at that time. He especially concentrated on the upper middle class to which his own family belonged. Although he treated his characters sympathetically, he highlighted their narrow-minded snobbishness and suffocating moral values. The acquisitive tendencies of this class were also projected by him as morally wrong. At the same time, he also campaigned for a variety of causes such as women's right and animal protection through his writings. His play 'Justice' led to prison reforms. When in 1917, he was offered knighthood he rejected it saying writing was an author's greatest reward. However, he later accepted Order of Merit and also the Nobel Prize.