English Grammar club

The club is on vacation until August, 19
During the meetings of the English Grammar Club in Window on America Kherson, you are not supposed to study grammar rules from textbooks. The club facilitator explains grammatical topics and suggests to participants the situations use in live communication. Positive emotions of visitors are very important because it helps to remember the topic better.
- Every Thursday from 3:00 pm to 4:00 pm
- The most interesting topics for different levels
- A lot of speaking practice
- Let's have fun together!
Visiting English Grammar Club is free for library users.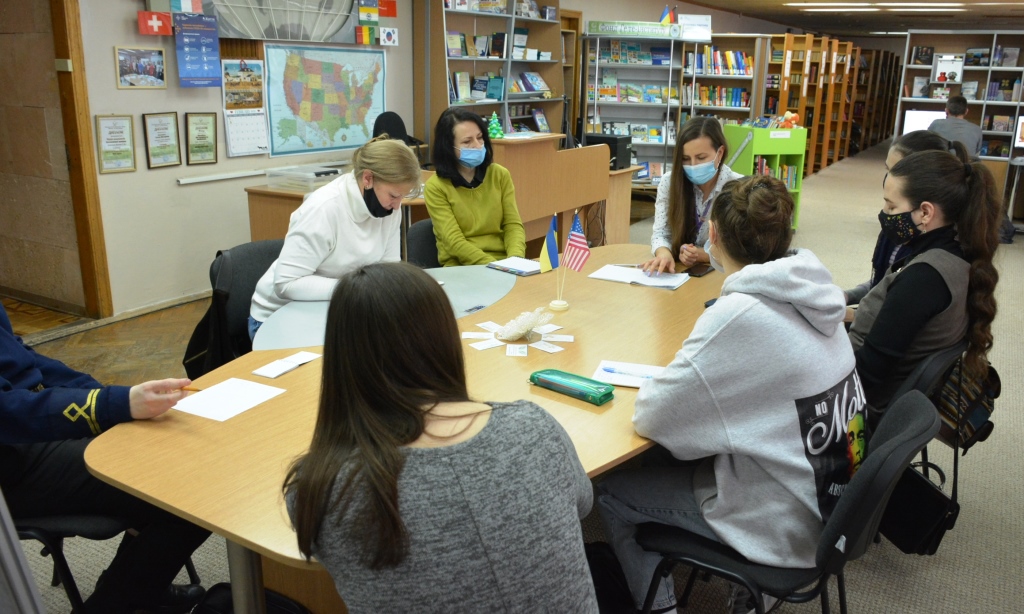 Club Meetings in the News:
How We Perfected the Perfect Tenses (10.06.2021)
Such a Mysterious Present Perfect (3.06.2021)
Types of Conditional Sentences in English (27.05.2021)
Grammar Begins With a Rule (20.05.2021)
Zero Articles (13.05.2021)
What Are Linking Words for? (6.05.2021)
Transitive or Intransitive English Verbs (22.04.2021)
Prepositions of Time (8.04.2021)
Types of Questions at the English Grammar Club (1.04.2021)
The English Grammar Club Continues Its Work (25.03.2021)
Quantifiers in English (18.03.2021)
Digest for English Language Speakers (11.03.2021)
English Spring (4.03.2021)
If You Could Travel, Where Would You Go? (25.02.2021)
Valentine's Day and More (11.02.2021)
Passive Voice in English (4.02.2021)
Games + Grammar = Amazing English (28.01.2021)
The gerund in English (21.01.2021)
What is the Present Participle? (14.01.2021)
Reported Questions, Requests, and Orders (17.12.2020)
Direct and Reported Speech (10.12.2020)
Always Be in a Good Mood and Study English (3.12.2020)
Prepositions of Movement in English (26.11.2020)
The Art of Complaining (19.11.2020)
How Many or How Much? (12.11.2020)
Get Ahead in English with Phrasal Verbs (5.11.2020)
Do Down, Do Without, and Other Phrasal Verbs (29.10.2020)
Phrasal Verbs (22.10.2020)
Prepositions in English (15.10.2020)
Giving Advice in English (8.10.2020)
Modality While Speaking (1.10.2020)
Base and Strong Adjectives (24.09.2020)
Let's Compare Adjectives (17.09.2020)
Grammar Games Day (10.09.2020)
Time to Revise the Grammar (3.09.2020)