Merry Christmas and Happy New Year!
20.12.2021 17:21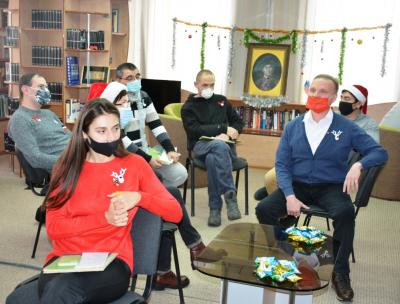 Christmas is a warm, family holiday. We discussed Christmas at Sunday meetings of English-speaking clubs in such a family atmosphere.
The members of the English for Everyone club discussed the holiday traditions of their families. Nina Kachmar, the club's facilitator, suggested several activities to our visitors. Two teams had to name songs with a mentioned English word. Those present sang together the famous hit of Abba and danced.
The regular visitors of the Easy English for Kids club also had a great time together. They listened to a fairy tale - the story of Jesus Christ's birth. Then we repeated "Christmas" words, answered the quiz questions, and led a round dance, singing "We wish you a Merry Christmas".
By the way, Americans take studio photos with their families at Christmas. Often everyone is dressed in the same sweaters. Those who do not have children take photos with pets often dressed in Christmas sweaters too. And what photos will you take these winter holidays?