The Only Way to Gain Knowledge
04.10.2021 14:35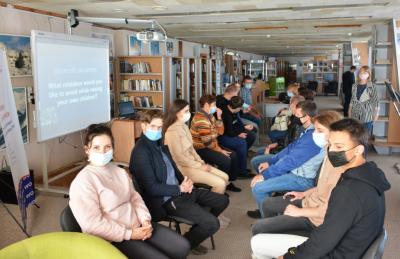 Learning is the only way we can gain new knowledge. As a child, we dedicate at least nine years to this significant stage. Did you notice that most of our school memories are related to teachers we liked or disliked? Indeed, teachers are important in both teaching and education. Since the meeting of the English Speaking Club at the Kherson Center «Window on America» was on Teacher's Day, we discussed the role of this profession in our lives and the lives of our children.
By the way, American schools have more than 3 million teachers: an average of 16 students per teacher. In addition, they are constantly learning, constantly in training. It does not depend on age. At the age of 20, they get teaching practice, and at the age of 60, they learn how to convey, for example, mathematics to modern children.
At the end of the conversation club meeting, the participants concluded that although the role of a teacher is significant, parents are no less important in education, because, behind every young child who believes in himself is a parent who believed first.