English Language Games Day
08.02.2022 11:49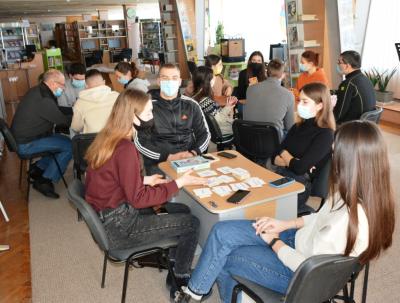 The next meeting of the English Speaking Club at Window on America in Kherson had an unusual format. The attendees were divided into groups and played language games. We offered four board games: Taboo, Apples to Apples, Cathy's Cards, and The Scrambled States of America to our visitors. The expectations were different, but it turned out that we could speak a lot of English and work productively in this way.
Apples to Apples Junior was unexpected for our visitors. That is a card game and a great way to expand your vocabulary. Players begin by dealing with seven "red" cards with nouns written on them. One of the players becomes a referee, and this referee plays a "green" card showing the adjective. Each player chooses from her/his nouns the one that, in her/his opinion, describes this adjective the best. The judge chooses the best combination. And the most intriguing was not even the judge's choice of the noun, but how the players proved that their phrase is better.
In general, the meeting was lively. The participants are looking forward to the next meeting, where we will speak about Valentine's Day.