Do you speak Shakespeare's Language?
29.04.2019 08:57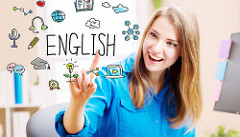 English Language Day is observed annually on 23 April. The event was established by UN's Department of Public Information in 2010. 23 April was chosen because it is the date "traditionally observed as both the birthday and date of death of William Shakespeare".
That is why this week the pupils of the 9th and 10th grades of school № 30 visited the Kherson WOA. They decided to find out which of them are smarter and students played the intellectual game "Mind Battle". The students guessed whether the statement was true or false; choosed a word which is true for four images; answered the question which required a numeral as an answer, etc. The participants showed themselves active and original.