Suggest a Topic for Discussion
08.11.2021 10:43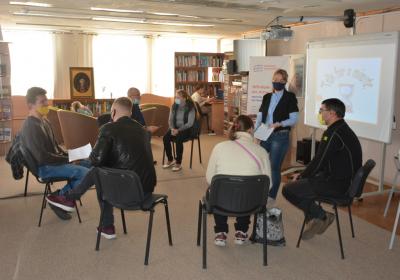 Speaking Club "English for Everyone" and its facilitator Nina Kachmar are always ready to meet our visitors. So, from time to time, the topic of the next meeting is chosen by the participants themselves. Everyone had the opportunity to suggest questions by writing them on separate sheets of paper at the beginning of the meeting. Then, we select these topics at random. This time we were able to talk about:
- the countries we went to and in general about our attitude to travel;
- our attitude to computers and computer games;
- our job and whether we would like to change it;
- our attitude to popularity and whether we would like to be famous and so on.
It is pleasant that despite the quarantine restrictions, we can still meet in the library. We invite other club members to obtain COVID-certificates and practice English together.