Will You Be my Valentine?
18.02.2020 14:37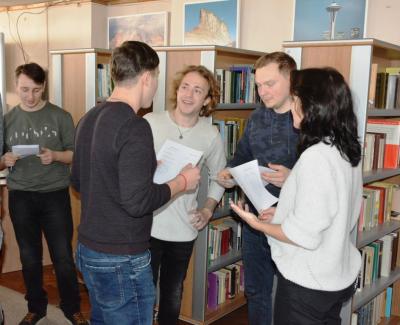 The tradition to celebrate Valentine's Day came to Ukraine only in the 90s of the last century. However, it is a pleasure to receive greeting cards and flowers from a loved one. In Britain, by the way, the number of requests to detective agencies increases after this holiday. The reason is simple; some people can't guess the author of the received greeting card. During this meeting of the Speaking club at "Window on America" center in Kherson, its members spoke about this holiday and love in their lives. Sarah Rosenthal, a Peace Corps volunteer and club facilitator, showed them a short video about this date's history. The attendees answered the questions:
- What's in a good date? and
- How do you show love?
Visitors played Mad Libs in groups. During this game, the participants, who don't know the content of the dialogue, complete a list of words with specific characteristics, such as "adjective" or "flower". When these words are inserted into pre-prepared cues, a rather ridiculous scene comes out. This time the topic was "Blind Dating".