Women's Career Club «Window to Success». A New Start
20.02.2021 14:07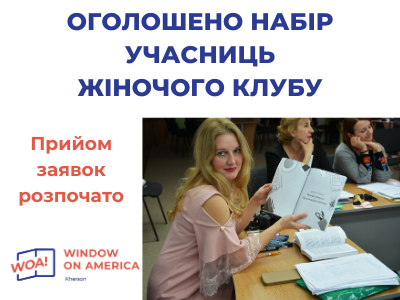 We are happy to announce the second start of the women's career club «Window to Success» initiated by America House in Ukraine.
❓ Do you want to gain new knowledge?
❓ Do you want to develop skills that will lead you to success in your personal and professional life?
If the answer to these questions is «yes» then join us as a club member.
Women's Career Club «Window to Success» is a women's professional development program inspired by Rania Anderson, author of the book «Undeterred». Rania Anderson is a leading world-class expert and trainer on career advancement for women entrepreneurs in countries with emerging markets.
Club members will attend monthly meetings to read, discuss, and apply the advice from Rania Anderson's book for personal and professional success. The working language of the club is Ukrainian.
⏰ Start of the program - from March 13, 2021.
Fill in the questionnaire at this link by March 1, 2021.