Easy English for Kids
21.11.2019 11:21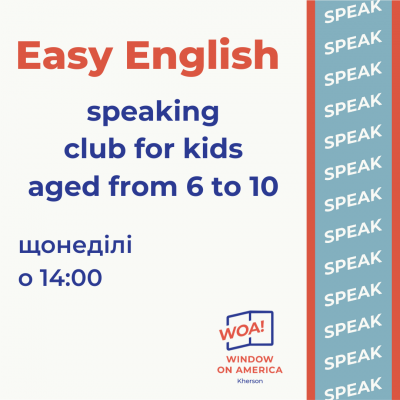 Easy English for Kids speaking club invites children from 6 to 10 years old to have fun in English. During our speaking club meetings the children will:
- learn to speak English;
- enrich their vocabulary;
- have favorable conditions for overcoming the language barrier;
- learn some English grammar rules;
- enjoy a lot of fun games, as well as free and easy communication.
The club's moderator, Victoria, a volunteer at Window on America in Kherson, says she was of the same age recently, so she remembers well her biggest problems when studying English. The purpose of Easy English for Kids club is to involve children in speaking English from early age by making their learning interesting and easy.
Estimated time: Sunday at 14.00.
Club start date: December 1, 2019.
Changes are possible in the date and time of meetings. We accept your suggestions and comments.
Sign up for the club by phone: 32-18-30 (Foreign Languages Department) or (068) 941 3765.