Educational presentations from the U.S. Embassy in Ukraine
27.11.2019 10:53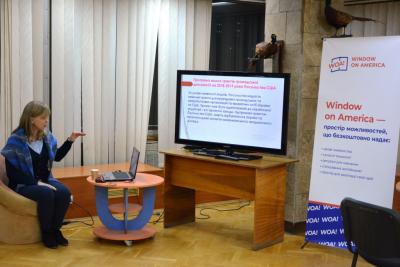 Yesterday, on November 26, Viktoriia Mykhailenko, Assistant Attaché of the U.S. Embassy in Ukraine and Yelyzaveta Shchepetylnykova, Senior Advisor of the EducationUSA in Ukraine visited Kherson. They had two important presentations in Window on America Kherson - for students of higher education institutions and for representatives of non-governmental organizations.
University students heard about the conditions of participation in the Global Undergraduate Exchange Program. This program is designed for students in grades 1-3. It is sponsored by the U.S. Department of State and administered by World Learning. The program provides one semester scholarships at U.S. universities and colleges for any specialty to outstanding undergraduate students from around the world for non-degree full-time study combined with community service, professional development, and cultural enrichment. In more detail, Viktoriia Mykhailenko described the main selection criteria for the program participants and told them about the documents that should be prepared for your application. Remember that you can get advice from the EducationUSA in Ukraine at any stage.
Assistant Attaché told representatives of Kherson NGOs about the changes that were made this year to the U.S. Embassy in Ukraine grant application rules. Public Diplomacy Small Grants Program invites Ukrainian non-profit and non-governmental organizations to submit proposals aimed to support projects in academic and educational affairs. The project must be tailored towards Ukrainian audiences, and all project activities supported by the U.S. Embassy grant should take place in Ukraine and incorporate a substantive U.S. component. The visitors were able to ask questions that arise during project preparation and grant writing.