Let's Code English Language
12.11.2019 11:52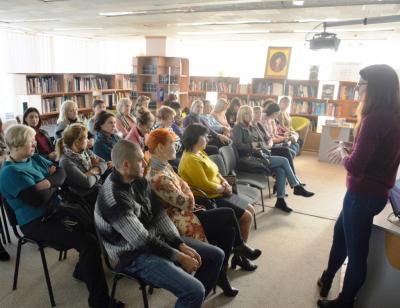 The Department of Foreign Languages and Window on America in Kherson have a good tradition to collaborate with Kherson Academy of Continuing Education. That's why English language teachers having advanced training visited the library. The program of the event was rich and relevant.
Christina Borovkova, author of Facebook-guide about working with the information in the Internet, spoke about how to check the news read, about the most common mistakes of media users and how to avoid them.
Oksana Zolotukhina, the head of the library's Internet center, showed how to use QR-codes during English lessons and how to create them.
Tetiana Donchenko, Window on America in Kherson coordinator, spoke about interactive techniques often used during speaking clubs in our library. One of them - Speed English - teachers experienced by themselves. Visitors made exercises on the interactive whiteboard, answered questions from «Activate» board games, and visited museums and countries around the world. According to visitors' reviews, the time spent was fun and helpful.