Online course of Academic Integrity for Teachers by EdEra and SAIUP
10.10.2019 12:02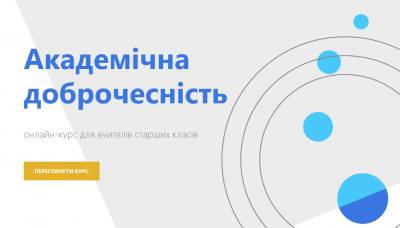 To the attention of school teachers, vocational and higher education teachers, as well as all who are interested in issues of academic integrity!
EdEra Online Academic Integrity Course can be found at: http://bit.ly/2lWMiTm
During the course, teachers will learn:
- how a teacher in grades 8-11 can promote the culture of academic integrity among students;
- how to learn to avoid plagiarism;
- the role of assessment in shaping an academically sound environment.
Course materials include:
Series of video lectures on aspects of academic integrity in learning
Guidelines for the formation of a culture of academic integrity in primary, secondary and high schools
Workbook with exercises that students can do with a teacher during the class
Scenarios for lessons and presentations
Interactive tests for students
Infographic "Understanding Academic Integrity"
In addition, the participants have an opportunity to receive a certificate of successful completion of the course.
The materials and course were developed with the support of the U.S. Embassy in Ukraine as a part of Strengthening Academic Integrity in Ukraine (SAIUP) Project