Second only to Shakespeare
16.04.2019 07:27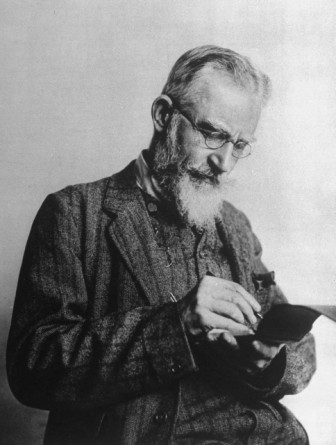 "Animals are my friends ... and I don't eat my friends."
«The vegetarian cuisine of J. B. Shaw»
George Bernard Shaw (1856 – 1950), was an Irish playwright, critic, polemicist and political activist. He wrote more than sixty plays, including major works such as Man and Superman (1902), Pygmalion (1912) and Saint Joan (1923). And also he was a vegetarian.
Shaw was a strict vegetarian beginning in 1881 at the age of 25, and remained one for 70 years until his death in 1950. In his diaries, he writes about the relative ease of finding vegetarian food in London in the later 1800s and 1900s, and reported there are "dozens of vegetarian restaurants," which he visited frequently.
Shaw was an ardent animal rights activist, and was strongly opposed to any sport that was cruel to animals in any way. He also opposed using animals in laboratory and medical research. Shaw was so concerned about man's treatment of animals and the slaughter of animals for meat, that he said about his funeral in his will, "My will contains directions for my funeral, which will be followed not by mourning coaches, but by oxen, sheep, flocks of poultry, and a small travelling aquarium of live fish, all wearing white scarves in honour of the man who perished rather than eat his fellow creatures."
J. Bernard Shaw was a very interesting person. Therefore, the 3rd year students of Kherson State University visited the Kherson "Window on America" center and took part in the literary presentation "Lady and Flower Girl". The presentation was dedicated to the works of G. Bernard Shaw. Visitors not only listened to the information about the playwright, but also performed the various tasks on an interactive whiteboard. Finally, they watched a fragment of the film "My Fair Lady" in English and discussed the mythological background of the work.