Smart Koala smartpen
12.10.2020 11:17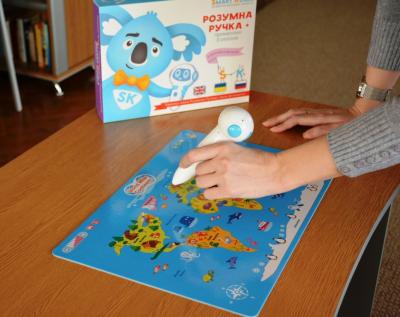 Do you or your children want to know English but don't want to cram the words? Then you should try the smartpen Smart Koala, which recently arrived at the Foreign Languages Department of the Oles Honchar Kherson Regional Universal Scientific Library. We present this technical device not only in the library but also during advertising campaigns in the open air and events in schools. The Robot Smartpen reads in English, Ukrainian and Russian single words and fairy tales, in editions designed specifically for this device:
- 200 Basic Words - Season 1-3
- Fairy tales:
1) Pinocchio
2) Cinderella
3) Little Red Riding Hood
4) Happy Prince
5) Snow White
6) The King's New Clothes
7) Prince Frog
8) Sleeping Beauty
- Games of Math - Season 1-4
- A set of interactive 5 in 1 board.
It is easy and comfortable to use the smartpen. Try it by yourself!
We thank the U.S. Embassy in Ukraine for promoting innovations at the Window on America Center in Kherson.