Visit of U.S. Vice-Consul in Kherson
26.10.2019 10:35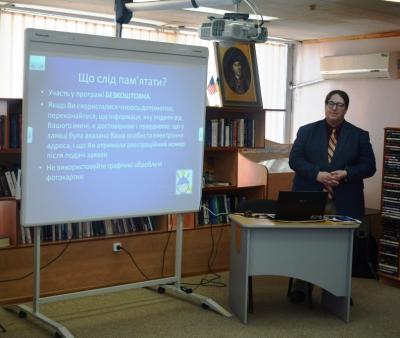 On October 24, 2019, United States Vice-Consul Emmet Tuohy and Iryna Chorna, the U.S. Embassy in Ukraine officer visited Window on America in Kherson. He gave a presentation on the U.S. Diversity Visa Program 2021 and the procedure of registering for it. He spoke in detail about:
- the difficulties that may arise when registering applications;
- the most common mistakes when registering applications;
- the correct submission of digital (graphic) photos;
- the interview and physical examination;
- this year changes in the application process.
The audience was interested in the presentation, so they asked a lot of questions, and received comprehensive answers.
The Diversity Immigrant Visa program, also known as the green card lottery, is a United States government lottery program for receiving a United States Permanent Resident Card. The winners are selected by computer system via random selection. The only way to apply and win is to enter one's data into the State Department's website, free of charge. For DV-2021, there is a policy change. Each DV entry must include the passport number, country of issuance, and expiration date for the principal entrant's valid, unexpired passport.
You can submit your application until November 5, 2019, noon (12:00).