We Study English Online
11.01.2021 12:59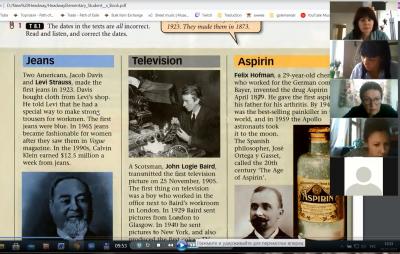 The library is temporarily closed to users, but this doesn't stop the English for Beginners lessons. On Saturday, we continued to work online. The visitors revised the rules of Past Simple somewhat forgotten during the holidays. They made some grammar exercises. We also read interesting texts about famous inventions - aspirin, jeans, television and corrected the mistakes in these texts after listening to the audio recordings.
Follow our news, regular meetings of our clubs continue online. This week, wait for:
English Grammar club on Thursday (14.01.2021) at 15:00
English Speaking club with Svitlana Zorina on Sunday (17.01.2021) at 11:00
English Reading club Good Reads on Sunday (17.01.2021) at 15:00.