Media Boost: Intensive workshop on digital communication
19.05.2020 12:59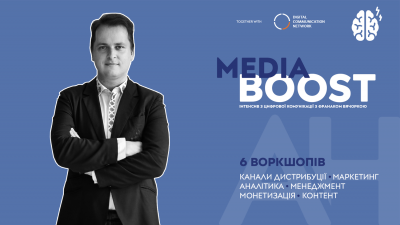 Go digital or die: American House in Kyiv in cooperation with Digital Communication Network launches online digital communication intensive workshop Media Boost with Franak Viačorka for journalists and SMM.
The intensive workshop will consist of 6 topics: distribution channels, marketing, analytics, management, monetization, and content.
Participation is free, but you must pre-register here: https://bit.ly/2AoZdo9.
Workshop program:
Distribution channels
Content types: "evergreen", "long-tailed", viral.
How to convey your message to the right audience?
What strategies can content creators follow in times of constant algorithm changes?
Marketing
How can non-profit media plan and launch their paid campaigns?
How to decide on targeting and choose the audience?
How brand marketing differs from content marketing?
Analytics
How can digital analytics help retain your audience?
How to deal with digital data?
What data to focus on?
The best tools for tracking indicators and working with analytics.
How and where to see which content increases the number of your audience?
Management
How to build a strong SMM team?
How to identify and engage 'internal opinion leaders'?
How to optimize SMM resources?
How to integrate social media work into your organization's overall strategy?
How to properly plan content according to the strategy?
Monetization
How different types of media can monetize their activities.
Discuss and review best practices with articles, podcasts, websites, stories, and YouTube channels.
Is the subscription module a solution for monetization?
Is it possible to monetize the media by competing with the oligarchs' media?
Content
How to visualize content and do not spend hours on it?
Interactive formats (polls, games)
How to quickly create a video?